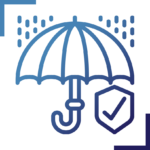 Life
Insurance
Life insurance is the foundation of any financial plan. It can be both a financial tool and an asset that can protect your family, your business, or whatever matters to you.
There are many different types of life insurance policies available, however most policies can be categorized into one of two types, Term Insurance & Permanent Insurance.
Term Insurance provides affordable protection and flexibility for a fixed period of time, with valuable options to extend the coverage in the future.
Permanent Insurance provides fixed lifetime coverage, and the assurance that there will always be a benefit paid to your beneficiaries. Permanent Insurance Policies can include the option to accumulate cash value within the policy on a tax-sheltered basis. These can be a useful tool for retirement as well as tax and estate planning.
Term Insurance
OVERVIEW
Flexible, simple solution that provides a fixed amount of insurance for a specific period of time. Most term insurance allows you to change your coverage to a Permanent Policy without medical evidence.
DURATION
10 or 20 year terms,
Or select custom term length to suit your needs
COST
Premiums are more affordable for shorter term policies but will increase as policies are renewed.
CASH VALUE
No
Permanent Insurance
OVERVIEW
Lifetime coverage and has the added benefit of accumulating cash value in a tax-efficient manner over time.
The two types of Permanent Policies are "Universal Life", and "Whole Life" (also known as "Participating Policies").
DURATION
Lifetime
COST
Premiums can be fixed for the life of the policy, or paid up in a shorter period (10, 15, 20 year payments)
CASH VALUE
Yes
For most business owners, your company forms the basis of your family income, personal financial security, and establishes your legacy for the next generation. Business Protection Planning starts by considering the possible events that could jeopardize the momentum and value of your business, such as the death or disability of a key employee or shareholder.
We work intimately with our clients and their advisors to identify these risks, and to establish tax-effective strategies that can help protect against these difficult scenarios. This ensures that the value and viability of the business is maintained. A Business Succession Plan can help ensure that you, your family and business are all properly protected in the event of death, disability or retirement.
The following are some of the concepts used to in Business Protection and Succession Planning:
Key person insurance
Buy/Sell insurance
Loan protection insurance
Executive Compensation
Tax planning strategies for shareholders
Corporate Insured Retirement Plan
A New Approach to Life Insurance
Live Well, Save Money & Earn Rewards.