Rapid change has become a theme in Group Benefits in recent years, and as an employer, it can be difficult to keep up with all the advances in new policies and products, as well as changing legislation and regulations. Despite all the change and innovation, one of the key themes that our clients have expressed is the hassle of dealing with enrolments, changes, and the endless paperwork that is still required by insurance companies.
Our role as advisors is to help you navigate through the confusion related to selecting and managing your benefit plan. In addition to maximizing the value for your benefits spend, we are always looking for ways to make the experience as simple and efficient as possible for employees and administrators. That is why SC Insurance has invested in a powerful new resource that will empower our clients to manage their plans more efficiently and cost-effectively than ever — all while keeping employee health and wellness top of mind.
Our SC Hub and Benefits Administration Portal will streamline your plan administration and new enrolments, providing a streamlined paperless process. At the same time leveraging technology to bring you and your employees access to the newest advances that allow them to engage and maximize the value of your benefits program.
The SC Hub will make your benefits program a positive part of your employee experience, a differentiator in attracting and retaining talent.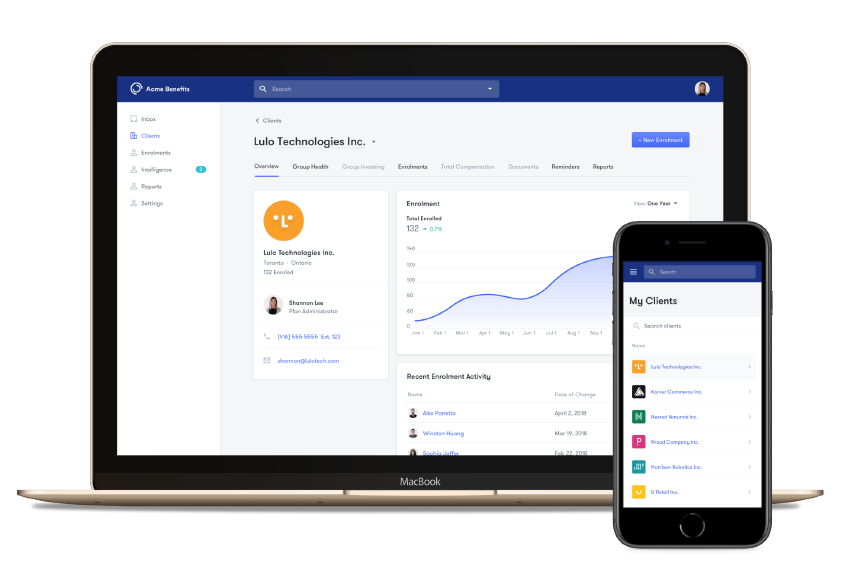 Old School meets New School
Insurance is an old industry still hampered with endless stacks of paper.
Paper and manual record keeping means accuracy decreases and errors add up, which can be quite a challenge for plan administrators — and the last thing you need is added complexities to further add stress to your days.
We're marrying benefits in the industry with the current generation of technology, where the new school model can have the entire process initiated with one email, linking to all carriers and plans, and even the ability to integrate with HR software and payroll systems.
As a client, you want to know that your needs are being taken care of, and that your advisors are up-to-date on the latest — but you don't want progress to be a burden on you when it comes to managing your benefits program.
That's why it's not about completely changing the way we do business, it's about readjusting to the times and finding innovative ways to translate this value onto you.
Introducing the SC Hub – Paperless. Seamless. No cost.
Our customer-centric approach means we focus on your overall experience by making your life easier. The Benefits Admin Portal is available to all SC clients at no cost and integrates your existing benefits plan.
In addition, we have negotiated special pricing for a selection of additional resources in the SC Toolkit. This is a collection of resources and solutions that is constantly being cultivated, and can be bundled into your program, integrating seamlessly with your companies' own Portal.
By unlocking your SC Hub, you can provide your new employees with an innovative and impressive introduction to your company — all bundled into a convenient, paperless, all-in-one platform.
HOW DIGITAL ENROLLMENT WORKS:
Plan Administrator enters basic info about new employee(s), initiating an email inviting them to enroll in your benefits program
New employee(s) receives a link via email to complete their enrollment online. Automated follow-ups are sent as needed to guarantee accuracy and timeliness
The SC Hub will sync their data with all of your plans, ensuring seamless enrollment and 100% accuracy
The SC Hub provides information and access to all elements of your Benefit program with live assistance only a click away!
Leveraging technology to make your life easier
What the benefit to your business looks like:
SC Toolkit: A full suite of Optional Resources
We are continually identifying and cultivating a list of services and solutions that you can implement as part of your program. We have negotiated preferred pricing for our clients on the services listed below:
HR Software
Your SC Hub already contains an employee profile. Take the next step, and let this populate your own HR Software, complete with the following benefits:
New hire management and digital on-boarding
Time off tracking
Employee records
Recruiting platform
Performance management
Complete digital records
Payroll Integration
Whether you need full payroll management, or simply want the SC Hub to integrate with your existing payroll system provider, maximize efficiency while minimizing errors, double entries and stay compliant!
Choose from the following payroll services:
Sync benefits and HR data with your payroll provider
Payroll processing by a CPA certified expert
Taxable benefits and pension reports
CRA/WSIB remittances and calculations
Year-End T4s,T4As & R-L1s and Record of Employment (ROEs)
Virtual Care providers
One of the hottest new trends in Canada and around the world, Virtual care provides affordable, on-demand access to medical professionals via smartphone or computer for your employees and their families. Get more out of your health and wellness spend and reduce time away from the office with this very convenient solution.
On-demand chat with Doctors, nurses or care co-ordinators
Consultations via text, video or phone at your convenience
Care navigation and seamless specialist referrals
Prescriptions, renewals, and medication delivery
HR and Employment Support 
One of the fastest growing new sectors in Human Resources is unlimited access to HR professionals and even legal support, for HR and Employment matters. For a reasonable fixed fee, you receive unlimited access to a team of professionals.
We have established strong relationships with leaders in this field, negotiating preferred rates for our clients, and VIP treatment and support for SC Clients. Protect your business and effectively manage your employee relations, HR and legal costs with this valuable new resource.
Services include:
Unlimited 24-hour professional HR Consulting & Representation
On-Site Consultation
Employee Contracts & Employer Documents
Health & Safety Training, Documentation, and Protection
Unique Insurance Protection in case of disputes or claims
Making your life easier with the next level of support and advocacy
Change is inevitable in all facets of life.
As advisors, it's our job to be able to adapt and anticipate these changes that play out in the market to better predict your needs, personalize the entire experience, and simplify life for you so that you can focus on your business.
Welcome to the new world of benefits and HR management.
To receive more information and talk to an advisor please